Our People
Start the conversation, keep it going!
MSD turns purple to support young people identifying with the LGBTQIA+ community.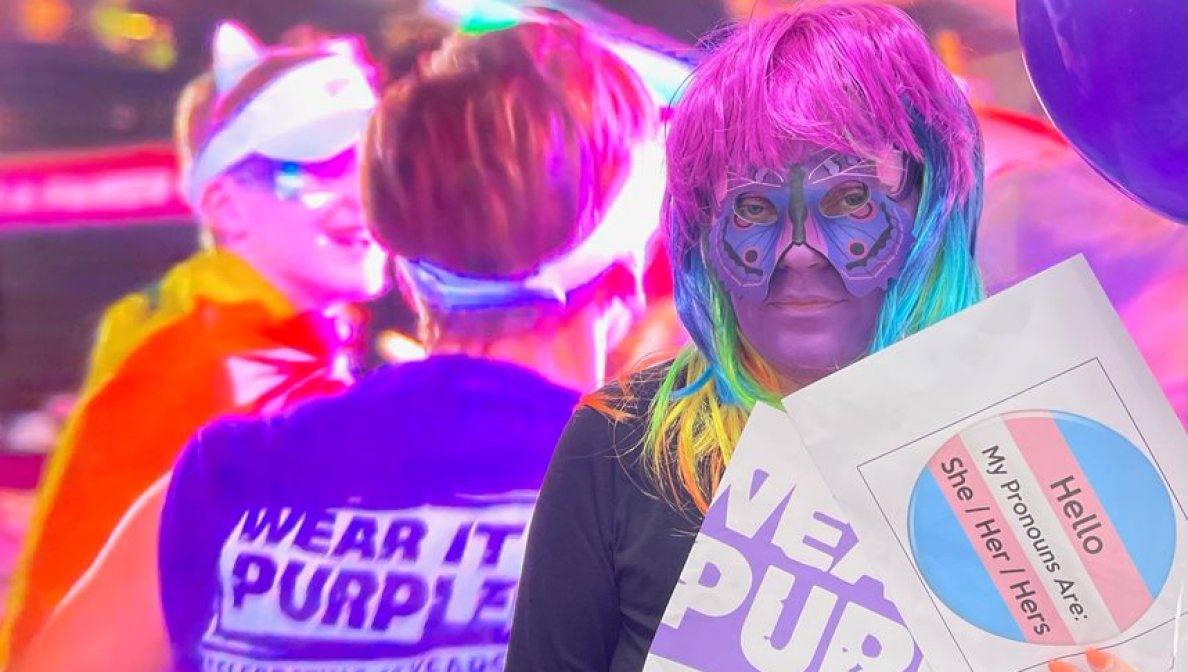 Colleagues across MSD Australia and New Zealand paused to wear purple and showcase their purple self in a Wear It Purple themed photo competition to recognise the importance of fostering supportive, safe, empowering and inclusive environments for young people identifying with the LGBTQIA+ community.
'Wear It Purple Day'
'Wear It Purple' day is an international movement that started in 2010 in response to stories from around the world of teenagers who suffered bullying and harassment resulting from the lack of acceptance of their sexuality or gender identity. Wear it Purple aims to show young people across the globe that there is hope, that there are people who support and accept them, and that they have the right to be proud of who they are.
Being part of a movement that has the potential to save thousands of lives is not an unfamiliar concept for the employees of MSD Australia and New Zealand.
Pride in Diversity
To support the message that everybody has the right to be proud of who they are, MSD hosted a local virtual event that featured guest speaker, Nicki Elkin from Pride in Diversity, who talked about the importance of inclusive awareness and the impact on LGBTQIA+ youth:
"Many people assume that things are universally better for the younger generation these days, that young people don't receive any abuse relating to their identity. We are sadly still seeing high levels of abuse and we are not yet living in a perfect world where all kids are feeling safe to be themselves."
"Research shows that some young people are still hiding who they are in regard to their sexual orientation or gender, and this does have an impact on their mental health, sense of belonging, productivity and engagement in the workplace. Not as many young people are out loud and proud as we would like to believe."
Committed to advancing Diversity & Inclusion
Nick Muljadi, from MSD's Clinical Trials team and a champion of the Rainbow Alliance and Next Gen Network, said that it is important for us to raise awareness and educate everyone in our workplace about this issue.
"Imagine a world where young people don't see the ramifications of coming out, and don't face discrimination for being themselves. We must support individuals who identify across all gender orientations and encourage them to bring their best and whole self to work and their communities."
Nick Muljadi
Senior Clinical Research Associate, ANZ Global Clinical Trial Operations
MSD is committed to advancing diversity and inclusion across all levels of the organisation – age, ethnicity and gender, to name a few. Wear It Purple Day serves as an important reminder, not only in August but throughout the year, that we all can do more to support young people to be themselves in all parts of the community.
Read more about the work we do at MSD to support our LGBTQIA+ community.
MSD Australia & New Zealand Wear It Purple photo competition entrants Best Selfie Category

MSD Australia & New Zealand Wear It Purple photo competition entrants Best Selfie Category

MSD Australia & New Zealand Wear It Purple photo competition entrants Best Pet Category

MSD Australia & New Zealand Wear It Purple photo competition entrants Best Lockdown Collaboration Category

MSD Australia & New Zealand Wear It Purple photo competition entrants Best Lockdown Collaboration Category

MSD Australia & New Zealand Wear It Purple photo competition entrants Best Lockdown Collaboration Category

MSD Australia & New Zealand Wear It Purple photo competition entrants Best Lockdown Collaboration Category

MSD Australia & New Zealand Wear It Purple photo competition entrants Best Pet Category

MSD Australia & New Zealand Wear It Purple photo competition entrants Best Baking Category