Spotlight on equitable parental leave: MSD receives Employer of Choice for Gender Equity for the seventh consecutive year
March 16, 2022 6:00 am Australia/Sydney
MSD has today received the Workplace Gender Equality Agency (WGEA) Employer of Choice for Gender Equity citation holder for 2021–23. This is the seventh consecutive year that MSD has received this significant citation, recognising the company's continued commitment to achieving gender equality in the workplace.
At MSD 94% of employees believe their manager genuinely supports equality between genders, and 91% strongly agree they have the flexibility they need to work and undertake other commitments. To continue to provide employee flexibility, we have extended our support for new parents regardless of their care-giver status as they return to work – recognising this can be a time of significant change in someone's life.
Prashant Nikam, Managing Director MSD Australia and New Zealand says, "Flexibility in how people can take parental leave and having no qualifying period are important steps towards creating a family friendly workplace. We are proud to support our employees, regardless of their caregiver status, through more choice in how they care for their family."
Lisa Onsley, Director of HR says, "We know our parental leave policy changes and improvements have meant that we're seeing more men take time with their children. Participation in the Employer of Choice for Gender Equity citation for the seventh consecutive year shows our strong commitment to balancing the scales of equality and ensuring all of our employees, irrespective of gender, have equal opportunity to thrive both at home and in the workplace."
Dave Cushing, IT Site Lead at our manufacturing facility in Bendigo knew that taking time off was the right thing to do for his family after he and wife Jo's second child Sully had a challenging welcome into the world. "I felt comforted knowing that MSD would be there for me to support me and my family at this time. I felt relieved knowing I was able to access 12 week's flexible parental leave – giving me precious time and space to focus on supporting my family, at a difficult time," said Dave.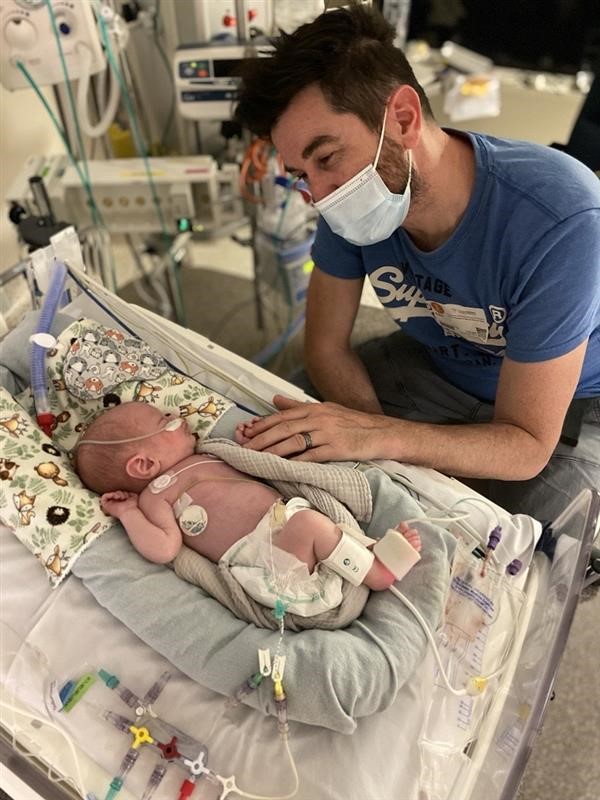 "It was such a weight off my shoulders. Even after Sully left ICU, he still required a high level of care. I don't know how I could have coped if Dave wasn't around," said Jo.
Today, Sully is a happy and healthy 8-month-old boy. David and Jo are pleased to be watching him grow and reach his milestones.
Parental leave is a key moment that matters in our employee's lives and MSD continues to encourage all parents to take leave suitable for their needs and their growing families, inclusive of surrogacy, adoption, and other caring arrangements. We are proud of our reputation as a family-friendly employer, and we recognise how important it is for our employees to spend time caring for their families.
We also understand the role that MSD must play in achieving gender equality both inside and outside of the workplace and we know that parental leave is a key driver in achieving gender equal outcomes – which is why we are proud of our progressive parental leave policy where equal leave is accessible to all, there are no qualifying periods to access leave and colleagues are able to take the leave flexibly to suit the different needs of their families.
Read Dave and Jo's story here.
About the Employer of Choice for Gender Equality (EOCGE) citation. The Employer of Choice for Gender Equality (EOCGE) citation is a voluntary leading-practice recognition program designed to encourage, recognise, and promote organisations' active commitment to achieving gender equality in Australian workplaces. Receiving the WGEA EOCGE citation is a sign of an organisation's commitment to making their workplaces equal. This commitment extends across their sectors, as they even influence others in their fields to keep pace with their diversity policies and practices. EOCGE citation holders are some of Australia's leading change-makers who are driving and embedding gender equality in their workplaces.